I have a small update on
McShane here
.
Well, I haven't done a great job keeping up Memory Monday, and I am still not doing exactly what
thesimplewife
had in mind, BUT I'm doing some scripture memory and letting it reside in my heart, even if I can't quote it word for word. I'm glad I'm still what I can! Here is my contribution to Memory Monday and
Mama Beth
Moore's Siesta Scripture:
So do not throw away your confidence; it will be richly rewarded, YOU NEED TO PERSEVERE so that when you have done the will of God, you will receive what He has promised. Hebrews 10:35-36
NIV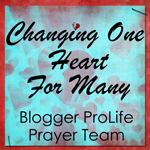 CHANGING ONE HEART FOR MANY: A commitment to pray for God to change the heart of President Obama on the subject of abortion.
Monday is our prayer day and this is the scripture focus for this week.
The

king's heart is in

the hand of the Lord; He directs it like a watercourse He pleases.

Proverbs 21:1

NIV

Father God, we come in agreement today - many

believers, one voice - to stand for life. We praise You for how You are moving,

using our current circumstances to disturb us into action, and raising up more

and more volunteers in positions that serve to replace pain and devastation with

hope and healing. We ask You to open President

Obama's

ears to the increased volume of those speaking on behalf of the unborn and help him to see Your handiwork for what it is. We thank You that the events of today are not a surprise to You, and that while our leader's mind might be turned one way, it's in Your ultimate

control.Believing You will change one heart for many, we pray in the MIGHTY,

LIFE-GIVING NAME OF JESUS CHRIST. Amen
(For the record, I know it's Sunday and I'm posting Monday stuff. However, I figure I better post it while I have the time and such.)
"I assure you: If anyone says to this mountain, 'Be lifted up and thrown into the sea,' and does not doubt in his heart, but believes that what he says will happen, it will be done for him. Therefore, I tell you, all the things you pray and ask for—believe that you have received them, and you will have them." Mark 11:23-24 (

HCSB

)